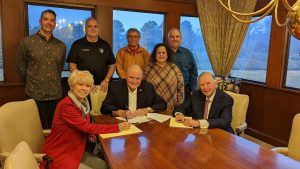 OBVTA Celebrates Closing of Surf Club Purchase
The signing of sale papers today marked the end of years of lobbying, prodding and facilitation by the Ortley Beach Voters & Taxpayers Association (OBVTA).
The purchase means more public beach, an expanded boardwalk, additional beach parking and most importantly the protection of our NJ shoreline and overall environment. After years of efforts to encourage and facilitate the protection and preservation of one of the few significant stretches of beachfront property available along the Jersey Shore, members of the Ortley Beach Voters & Taxpayers Association were present today as Toms River officials signed the documents to purchase the Surf Club properties. The signing marked the end of a multi-year campaign by the OBVTA to see three oceanside properties between 5th and 8th Avenues adopted for public use. The acquired land had been Joey Harrison's Surf Club, a popular shore destination that was irreparably damaged nine years ago in Superstorm Sandy. The purchase was made possible with substantial financial support in the form of New Jersey state Blue Acres and Green Acres funds; the cooperation of the Ocean County Board of Commissioners to help Toms River raise its portion of the purchase price; and the efforts of the Toms River Town Council and the Town Administration.
But it was the persistence of the OBVTA that first put the Surf Club property on the public radar, and the support of its now nearly 700 paid memberships that kept it there through years of delays, negotiations, setbacks, bureaucratic foot dragging and heated politicking.
"From the start, this was an effort to improve the quality of life for all lovers of the Jersey Shore," said Anthony Colucci, president of the Ortley Beach Voters & Taxpayers Association. "As we've said repeatedly, this was a once-in-a-lifetime opportunity to protect and preserve a substantial portion of the oceanfront, and the OBVTA was determined to see it happen."
READ THE FULL PRESS RELEASE:
Read Shorebeat News Article HERE
and Asbury Park Press article HERE