Clean Ocean Action has announced the 2021 fall beach sweep clean up.
You must register at the link below: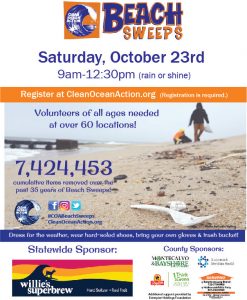 Webinar presentation of the Ortley Beach Streetscapes Project Held November 21st,2020

The presentation on the Ortley Beach streetscape improvements was given on November 21st. The presentation and the plans are now posted on the Toms River website HERE. We will provide further updates as the y become available.

PROJECT BACKGROUND

The purpose of this project is streetscape enhancements, including plantings, pedestrian lighting, street furniture, signage, etc. along Route 35 Northbound and gateway treatments at key entrances to Ortley Beach.

The intent of the project is to beautify the area, promote economic revitalization, and expand the business district and continued recovery following Super Storm Sandy.

The project Design and Construction cost is funded by federal funds through a Transportation Alternatives Design Assistance Program (TA- 2016) administrated through NJDOT Division of Local Aid.

PROPOSED PROJECT LIMITS

Gateway Signage: o Northern end of Ocean County Route 629 Bay Boulevard (near Haag Avenue) o Southern end of Ocean County Route 629 Bay Boulevard (near Tunney Avenue) o Southern end of Route 35 NB (near West Colony Road) o Southern end of Route 35 NB (near Surf Road) o Northern end of Route 35 NB (near First Avenue) o Northern end of Route 35 SB (near First Avenue)

Streetscape Improvements: o Route 35 NB – MP 3.36 to MP 4.35, from Colony Road to north of First Avenue

ANTICIPATED PROJECT SCHEDULE:

Preliminary Engineering Phase (Completion: Feb. 2021)

Final Design Phase (Completion: Sept. 2021)

Construction (Start: 2022)



For further information, please contact: David Glynn Roberts, AICP/PP, LLA Township Planner, Toms River Township 33 Washington Street PO Box 728 Toms River, NJ 08754-0728 (732)-341-1000, ext. 8354 or email: droberts@tomsrivertownship.com
The Ortley Beach Voters and Taxpayers Association has planned a rally outside the Ocean County Freeholders' meeting at 101 Hooper Ave, on Wednesday afternoon at 3:30pm to urge the county to help complete the necessary transactions for Toms River to acquire the former Joey Harrison's Surf Club site and turn it into public beach.
OBVTA has been urging Toms River to buy the property since at least 2015, when the final demolition was completed, to preserve open space and create more public beachfront. We have also paid for a mediator to bring the parties together when discussions fizzled. A separate land transaction between Ocean County and Toms River Township is apparently one last necessary step for the deal to fully close.
Recent news articles are below: